BAYLEAF COLOGNE
"The most culinary bar in Cologne"
The Bayleaf is a high-quality cocktail bar and at the same time a restaurant offering fine dining and tapas.
Our reputation as the most culinary bar in Cologne rushes ahead. (Carsten Henn, KStA, November 2016) Thus, we are concentrating on the concept developed by owner Daniel Gottschlich (Ox & Klee) in 2016 to open the Bayleaf: Foodpairing – the combination of fine dining dishes with high-quality cocktails.
"Der Feinschmecker" wrote in February 2017:
"Daniel Gottschlich implemented his plan in 2016 and is now one of the pioneers in Germany who combine cocktails with high-quality dishes"
Daniel Gottschlich (owner)
Rossini Burger
In memory of Paul Bocuse
Hanging Tender of U.S. Pat. Beef, pink roasted, unpeopled foie gras, which we are particularly proud of, refined with red wine shallots and crispy lettuce hearts. Vegetable chips and truffle mayonnaise with fresh truffles are served.
49.00 euros
Food – Lunch
Business Lunch (12am – 3pm)
Every day, the kitchen team around Daniel Gottschlich designs exciting, varied dishes that are filling, but not heavy – so that you get well and fit from the lunch break! Just sign up for the newsletter and receive each week the current Plat du Jour courts by mail in advance.
Business Lunch
Fine dining for business meetings or simply enjoying lunch.
3 courses 35 Euro
with Drink Pairing 50 Euro
(with alcohol 55 Euro)
Plat du Jour
daily changing lunch
(including homemade healthy lemonade)
15 Euro
Food – Dinner
Food Pairing Menu (from 6.30pm)
The Bayleaf is one of the first bars in Germany dedicated to the topic of food pairing. This is the combination of flavors in food and cocktails. Michael Elter creates fine cocktails with seasonal ingredients to fine dining dishes from the forge of the star kitchen of Ox & Klee.
Dinner Menu
Drinks
Whether classic or avangard, you decide!
Our bar chef Michael Elter prepares all cocktails at the Bayleaf with fresh products, homemade liqueurs and specially prepared syrups. All juices are freshly squeezed. Through his years of experience as an IHK bar master, he is able to present classics, personal creations and also alcohol – free cocktails in a top quality to our guests.
Our bar menu offers not only cocktails, just have a look
Bar Menu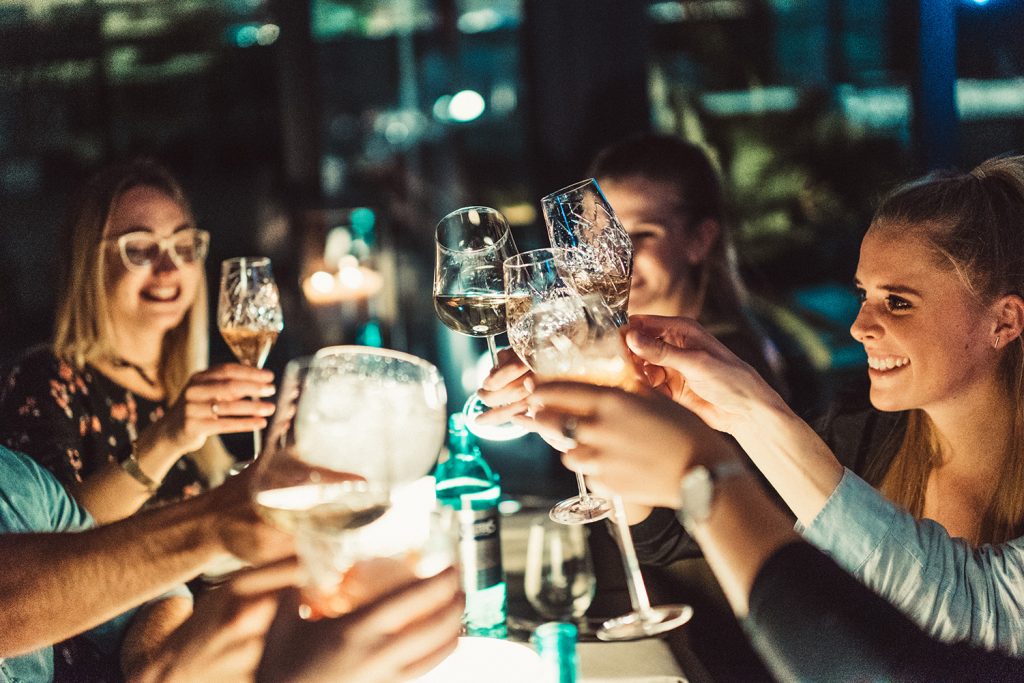 Celebrate at Bayleaf
Whether company event or birthday
Bayleaf is a great place to celebrate. Enjoy a set menu with up to 40 persons or a flying buffet with up to 60 people. Should it be a party with DJ? In addition to our interior you can also rent our terrace.
We would be happy to make you an individual offer! Please send us an e-mail veranstaltung@bayleaf.cologne or call us: +49 221 / 16956601
Directions
Enter the address "Im Zollhafen 18, 50678 Cologne" in your navigation system. It will lead you through the underground garage directly under the crane house. Continue 10m further in the blue area and park at numbers 2086-2105 or opposite at 2130-2147. Leave the parking lot via the entrance 2.04.
Contact
Kranhaus 1 – Middle crane house
Im Zollhafen 18, 50678 Cologne
Tue – Fr 12am – 3pm and 6:30pm – 12:00 midnight / kitchen 12am – 2pm and 6:30pm – 10:00pm
Sa 6:00pm – 01:00am / kitchen 6:30pm – 10:00pm
info@bayleaf.cologne
+49 221 / 16956601
(by phone from 10 am)